"Minds Together" Sysmex Knowledge Congregation – Haematological Malignancies : Bench to Bedside Webinar Series
Speaker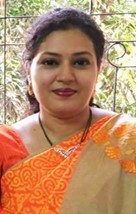 Dr. Dhanlaxmi Shetty is a cytogeneticist. Currently she is the Scientific Officer-E and Officer-in-charge at the Cancer Cytogenetics Department, Advanced Centre for Treatment Research and Education in Cancer (ACTREC), Tata Memorial Centre.
Dr. Shetty has over 10 years of experience in pre-natal, post-natal and cancer genetics from three NABL and CAP accredited laboratories. She is very passionate towards Human Genetics and is involved in various teaching and training activities for graduate and post graduate students.
Abstract of Lecture
Cytogenetics is now considered a mandatory investigation in haematological malignancies as ~70% of patients with acute myeloid leukaemia (AML); 80% of patients with acute lymphoblastic leukaemia (ALL) and chronic lymphoblastic leukemia (CLL); 50% of patients with multiple myeloma (MM) and 90% of chronic myeloid leukemia (CML) harbor chromosomal aberrations. Majority of these abnormalities are recurrent and independent prognostic markers thereby assisting in risk stratification of patients and planning therapy. Cytogenetics is essential for providing definitive diagnosis of MPN and MDS while being a valuable tool for monitoring engraftment after bone marrow transplantation in sex mismatch cases. Likewise at follow-up it assists in determining the disease status and clonal evolution. Conventional cytogenetics also occasionally stands superior to higher molecular technologies, in that, it can uncover variants and novel/rare abnormalities that remain out of scope for most targeted panel based molecular techniques. Moreover, cytogenetics has been recommended in the diagnostic algorithm for haemato-lymphoid malignancies in the WHO 2008 & 2016, ELN 2017 & ELN 2020; NCCN 2018, ESMO, ASCO; IPSS & IPSS-R and m SMART. The current talk will present diagnostic markers and their prognostic relevance along with case reports highlighting the significance of cytogenetics in diagnosis and management of leukemia patients.