The Sysmex
CA-104

analyser is your straight-forward, compact semi-automated coagulation system designed to simplify coagulation testing; making it more standardised and reproducible. Together with the same high-quality reagents used on the fully automated coagulation analysers, Sysmex CA-104 analyser provides a reliable and affordable solution for small testing facilities.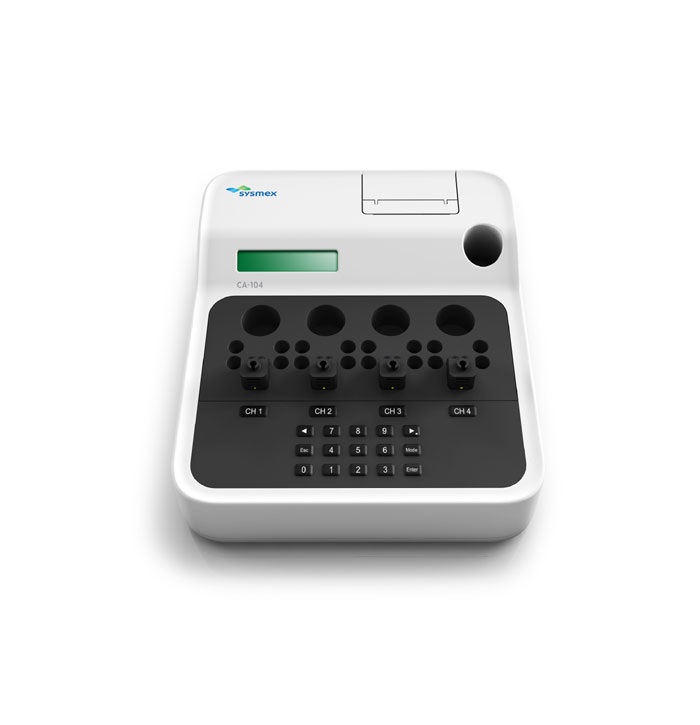 Small, easy to-handle four-channel semi-automated coagulation analyser, utilising photo-optical turbodensitometric detection principle for analysing routine clotting tests such as PT, APTT, TT, Fbg and single factor.
The Sysmex CA-104 analyser offers an economical, convenient, safe and secure, semi-automated coagulation analyser to standardise your essential haemostasis testing.
Detection principles
Clotting: turbodensitometric photo-optical measuring principle
Detection channel/method
4 LEDs with wavelength 870 nm for clotting assays
Parameters
1 simultaneous analysis parameter
Sampling
Manual pipetting, auto-start function
Reagent holder
4 positions at 37°C (1 with reagent mixer)
1 position at room temperature
Reference curves
Manual input of reference curve (up to nine points)
Printer
Built-in thermal printer
Dimensions (WxHxD)/weights
270 x 95 x 310 mm, 2.9 kg (without AC adaptor)
The Sysmex CA-104 analyser offers an economical, convenient, safe and secure, semi-automated coagulation analyser to standardise your essential haemostasis testing.

Detection principles
Clotting: turbodensitometric photo-optical measuring principle
Detection channel/method
4 LEDs with wavelength 870 nm for clotting assays
Parameters
1 simultaneous analysis parameter
Sampling
Manual pipetting, auto-start function
Reagent holder
4 positions at 37°C (1 with reagent mixer)
1 position at room temperature
Reference curves
Manual input of reference curve (up to nine points)
Printer
Built-in thermal printer
Dimensions (WxHxD)/weights
270 x 95 x 310 mm, 2.9 kg (without AC adaptor)