The Sysmex Clinical Data Repository (CDR) platform, Eclair, enables secure access and sharing of diagnostic data across regional and national systems, for clinical care and population health management.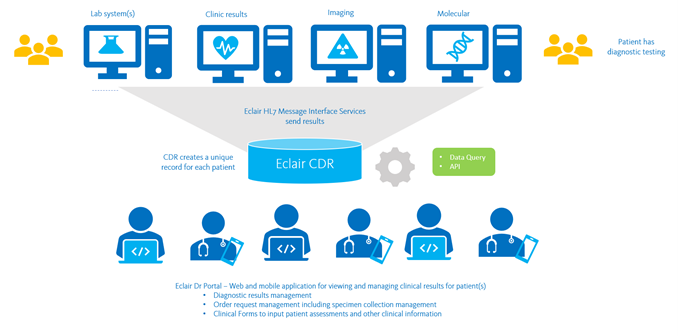 Sysmex CDR communicates via HL7 to receive patient results and information from:
Laboratory Information Systems (LIS) – Eclair is ideal for consolidating results from multiple different laboratory and pathology systems to create a single record of diagnostic results, including:

Core disciplines
Specialist systems
Anatomical pathology
Molecular

Radiology Information Systems (RIS)
Hospital Information Systems (HIS) – ADT
Clinical Document Sources
Pharmacy Systems for medication dispensing details
The database is relational (RDBMS) – SQL or Oracle.
Collaboration between the Northern region District Health Boards (DHBs) of New Zealand and Sysmex led to the establishment of the largest regional results repository (TestSafe) in the country. At the core of this solution is Eclair – a secure clinical data repository that centrically stores and aggregates diagnostic and clinical patient data, aimed to streamline the management of diagnostic data workflow, and accelerate innovative health initiatives for population health management.