The CN-3000 and CN-6000 are part of Sysmex new generation of coagulation analysers that offer enhanced level of productivity, analytics, operation, and service to laboratories.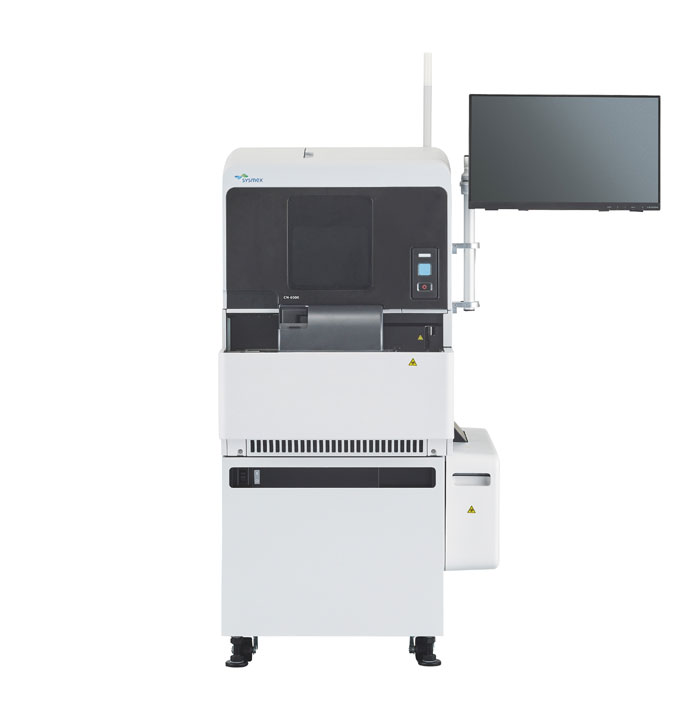 High throughput, fully automated, wagon-mounted haemostasis analysers that are expandable to suit different laboratories. Laboratories with high workloads can decide on an optional sampler which provides a larger sample loading capacity. And depending on the laboratory workflow, the Sysmex CN analysers can be connected to a total laboratory automation track (TLA) system, or to Sysmex haemostasis island transportation system with a maximum of three Sysmex CN analysers.
The Sysmex CN analyser series condenses the high power of productivity, analytics, operations, and service into small footprint to meet your haemostasis testing needs!
* Please check with your Sysmex representative on the reagent regulatory status in your country
**Assay application is under development
 
CN-6000
CN-3000
Detection principles
Multi-wavelength detector for transmitted light at 340, 405, 575, 660 and 800 nm
Multi-wavelength detector for transmitted light at 340, 405, 575, 660 and 800 nm
Detection channel/method
26 channels for clotting, chromogenic and immunoassays (8 of these channels are also be used for platelet aggregation assays)
13 channels for clotting, chromogenic and immunoassays (4 of these channels are also be used for platelet aggregation assays)
Parameters
Up to 60 parameters can be analysed simultaneously
up to 60 parameters can be analysed simultaneously
Throughput
PT: 450 tests/hour
PT/APTT: 401 tests/hour
PT: 225 tests/hour
PT/APTT: 215 tests/hour
Sampling
Continuous loading of maximum 5 racks of 6 tubes each with standard sampler or 20 racks of 6 tubes each with optional sampler,  cap-piercing functionality
1 dedicated, cap-piercing, STAT positionDirect sampling via left side of the analyser when connected to an optional Sysmex haemostasis island transportation system or other laboratory automation track system
Continuous loading of maximum 5 racks of 6 tubes each with standard sampler or 20 racks of 6 tubes each with optional sampler,  cap-piercing functionality
1 dedicated, cap-piercing, STAT positionDirect sampling via left side of the analyser when connected to an optional Sysmex haemostasis island transportation system or other laboratory automation track system
Reagent holder
38 tilted reagent vial positions (10°C), 15 of these reagent positions tilted angle can be adjusted by lever (0° or 8°), 7 with mixing function
6 positions (room temperature)
All positions with positive reagent identification
38 tilted reagent vial positions (10°C), 15 of these reagent positions tilted angle can be adjusted by lever (0° or 8°), 7 with mixing function
6 positions (room temperature)
All positions with positive reagent identification
Reference curves
Maximum 10 reference curves per lot
Maximum 10 lots per parameter
Maximum 250 parameters
Maximum 10 reference curves per lot
Maximum 10 lots per parameter
Maximum 250 parameters
Quality control
X-bar control, Levy-Jennings control
Multi-rule (Westgard Rule) monitoring
40 files with maximum 1,200 data points each
X-bar control, Levy-Jennings control
Multi-rule (Westgard Rule) monitoring
40 files with maximum 1,200 data points each
Data storage
Up to 10,000 sample results with reaction curves
Up to 10,000 sample results with reaction curves
Printer
List or Graphic Printer (optional)
List or Graphic Printer (optional)
Dimensions (WxHxD)/weights
720 × 1,350  × 906 mm (with trash box), 230 kg (approximate)
1060 x 1,350 x 1,030 mm (with optional sampler/wagon and trash box), 330 kg (approximate)
720 × 1,350  × 906 mm (with trash box), 230 kg (approximate)
1060 x 1,350 x 1,030 mm (with optional sampler/wagon and trash box), 330 kg (approximate)
The Sysmex CN analyser series condenses the high power of productivity, analytics, operations, and service into small footprint to meet your haemostasis testing needs!

* Please check with your Sysmex representative on the reagent regulatory status in your country
**Assay application is under development

 
CN-6000
CN-3000
Detection principles
Multi-wavelength detector for transmitted light at 340, 405, 575, 660 and 800 nm
Multi-wavelength detector for transmitted light at 340, 405, 575, 660 and 800 nm
Detection channel/method
26 channels for clotting, chromogenic and immunoassays (8 of these channels are also be used for platelet aggregation assays)
13 channels for clotting, chromogenic and immunoassays (4 of these channels are also be used for platelet aggregation assays)
Parameters
Up to 60 parameters can be analysed simultaneously
up to 60 parameters can be analysed simultaneously
Throughput
PT: 450 tests/hour
PT/APTT: 401 tests/hour
PT: 225 tests/hour
PT/APTT: 215 tests/hour
Sampling
Continuous loading of maximum 5 racks of 6 tubes each with standard sampler or 20 racks of 6 tubes each with optional sampler,  cap-piercing functionality
1 dedicated, cap-piercing, STAT positionDirect sampling via left side of the analyser when connected to an optional Sysmex haemostasis island transportation system or other laboratory automation track system
Continuous loading of maximum 5 racks of 6 tubes each with standard sampler or 20 racks of 6 tubes each with optional sampler,  cap-piercing functionality
1 dedicated, cap-piercing, STAT positionDirect sampling via left side of the analyser when connected to an optional Sysmex haemostasis island transportation system or other laboratory automation track system
Reagent holder
38 tilted reagent vial positions (10°C), 15 of these reagent positions tilted angle can be adjusted by lever (0° or 8°), 7 with mixing function
6 positions (room temperature)
All positions with positive reagent identification
38 tilted reagent vial positions (10°C), 15 of these reagent positions tilted angle can be adjusted by lever (0° or 8°), 7 with mixing function
6 positions (room temperature)
All positions with positive reagent identification
Reference curves
Maximum 10 reference curves per lot
Maximum 10 lots per parameter
Maximum 250 parameters
Maximum 10 reference curves per lot
Maximum 10 lots per parameter
Maximum 250 parameters
Quality control
X-bar control, Levy-Jennings control
Multi-rule (Westgard Rule) monitoring
40 files with maximum 1,200 data points each
X-bar control, Levy-Jennings control
Multi-rule (Westgard Rule) monitoring
40 files with maximum 1,200 data points each
Data storage
Up to 10,000 sample results with reaction curves
Up to 10,000 sample results with reaction curves
Printer
List or Graphic Printer (optional)
List or Graphic Printer (optional)
Dimensions (WxHxD)/weights
720 × 1,350  × 906 mm (with trash box), 230 kg (approximate)
1060 x 1,350 x 1,030 mm (with optional sampler/wagon and trash box), 330 kg (approximate)
720 × 1,350  × 906 mm (with trash box), 230 kg (approximate)
1060 x 1,350 x 1,030 mm (with optional sampler/wagon and trash box), 330 kg (approximate)