The
CS-1600

system combines the reliable, proven mechanics of the former CA-1500 model with the advanced CS-series technology in a compact analyser. It is ideal for mid-sized laboratories requiring an easy-to-use, cap-piercing analyser capable of running clotting, chromogenic, and immunologic assays simultaneously.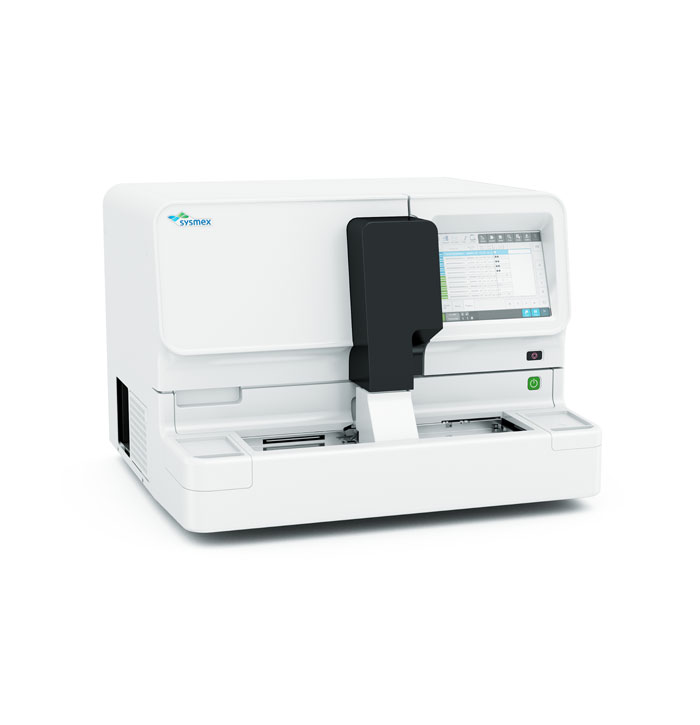 Fully automated haemostasis benchtop analyser offering high functionality in an easy-to-use and compact size model. It features multi-wavelength technology with three different detection technologies: clotting, chromogenic and immunological (turbidimetric).
Using novel technologies, the CS-1600 system assures laboratories of consistent accuracy and reliability in their testing results. In addition, there are various high-end functionalities aimed at helping Medical Technologists improve their efficiency and providing extra support to laboratory accreditation requirements and documentation.
Consistent accuracy and reliability
Support laboratory accreditation requirements and documentation
Detection principles
Multi-wavelength detector for transmitted light at 405, 575, 660 and 800 nm
Detection channel/method
8 channels for clotting, chromogenic and immunoassays
Parameters
20 parameters can be analysed simultaneously
Throughput
PT: 120 tests/h
PT/APTT: 110 tests/h
Sampling
Continuous loading of maximum 5 racks of 10 tubes each, cap-piercing functionality
STAT sample can be analysed as priority by executing either sample or rack interruption function
Reagent holder
28 reagent vial positions (15°C), of these 12 positions are tilted at 10°
5 positions (room temperature)
Reference curves
Maximum 5 reference curves per lot
Maximum 5 lots per parameter
Quality control
X-bar control, Levy-Jennings control
Multi-rule (Westgard Rule) monitoring
40 files with maximum 300 data points each
Data storage
Up to 3,000 sample results with reaction curves
Printer
Graphic or Data Printer (optional)
Dimensions (WxHxD)/weights
Main unit:
760 × 540  × 690 mm, 85 kg (approximate)
Using novel technologies, the CS-1600 system assures laboratories of consistent accuracy and reliability in their testing results. In addition, there are various high-end functionalities aimed at helping Medical Technologists improve their efficiency and providing extra support to laboratory accreditation requirements and documentation.

Consistent accuracy and reliability

Support laboratory accreditation requirements and documentation

Detection principles
Multi-wavelength detector for transmitted light at 405, 575, 660 and 800 nm
Detection channel/method
8 channels for clotting, chromogenic and immunoassays
Parameters
20 parameters can be analysed simultaneously
Throughput
PT: 120 tests/h
PT/APTT: 110 tests/h
Sampling
Continuous loading of maximum 5 racks of 10 tubes each, cap-piercing functionality
STAT sample can be analysed as priority by executing either sample or rack interruption function
Reagent holder
28 reagent vial positions (15°C), of these 12 positions are tilted at 10°
5 positions (room temperature)
Reference curves
Maximum 5 reference curves per lot
Maximum 5 lots per parameter
Quality control
X-bar control, Levy-Jennings control
Multi-rule (Westgard Rule) monitoring
40 files with maximum 300 data points each
Data storage
Up to 3,000 sample results with reaction curves
Printer
Graphic or Data Printer (optional)
Dimensions (WxHxD)/weights
Main unit:
760 × 540  × 690 mm, 85 kg (approximate)