The successors of the first coagulation analyser possessing a multi-wavelength analysis technology, the
CS-2400

and

CS-2500

systems allow medium-high volume laboratories to perform routine and specialised testing in a single analyser.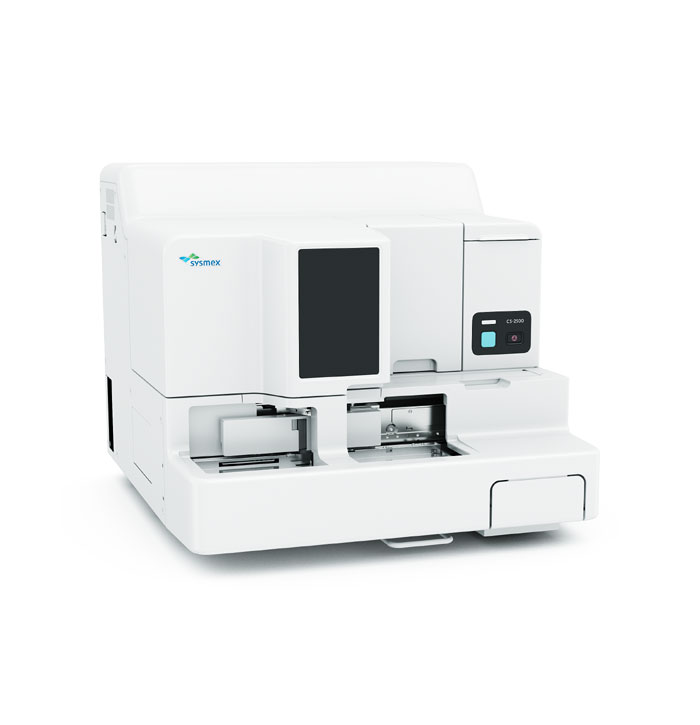 Mid volume, fully automated haemostasis benchtop analyser that features advanced technology such as multi-wavelength detection and HIL check. It offers a wide range of assays utilising four detection methods: clotting, chromogenic, immunological (turbidimetric) and aggregometry.
The CS-2400 and CS-2500 systems perform a wide spectrum of routine and specialised testing with consistent accuracy and reliability, usability designed with Medical Technologists in mind, and provide extra support to laboratory accreditation and documentation requirements.
Consolidation of routine and specialised testing
Consistent accuracy and reliability
Support laboratory accreditation requirements and documentation requirements
1. Shima M, Thachil J, Nair SC, Srivastava A. Towards standardization of clot waveform analysis and recommendations for its clinical applications. J Thromb Hemost. 2013; 11:1417-20.
CS-2500
CS-2400
Detection principles
Multi-wavelength detector for transmitted light at 340, 405, 575, 660 and 800 nm
Multi-wavelength detector for transmitted light at 340, 405, 575, 660 and 800 nm
Detection channel/method
10 channels for clotting, chromogenic and immunoassays (4 of these channels are also be used for platelet aggregation assays)
10 channels for clotting, chromogenic and immunoassays (4 of these channels are also be used for platelet aggregation assays)
Parameters
up to 60 parameters can be analysed simultaneously
up to 60 parameters can be analysed simultaneously
Throughput
PT: 180 tests/h
PT/APTT: 115tests/h
PT: 180 tests/h
PT/APTT: 115tests/h
Sampling
Continuous loading of maximum 5 racks of 10 tubes each, cap-piercing functionality
5 dedicated STAT positions
Continuous loading of maximum 5 racks of 10 tubes each, non-cap piercing functionality
5 dedicated STAT positions
Reagent holder
40 tilted reagent vial positions (10°C), 10 with mixing function
5 positions (room temperature)
All positions with positive reagent identification
40 tilted reagent vial positions (10°C), 10 with mixing function
5 positions (room temperature)
All positions with positive reagent identification
Reference curves
Maximum 10 reference curves per lot
Maximum 10 lots per parameter
Maximum 250 parameters
Maximum 10 reference curves per lot
Maximum 10 lots per parameter
Maximum 250 parameters
Quality control
X-bar control, Levy-Jennings control
Multi-rule (Westgard Rule) monitoring
750 files with maximum 1,200 data points each
X-bar control, Levy-Jennings control
Multi-rule (Westgard Rule) monitoring
750 files with maximum 1,200 data points each
Data storage
Up to 10,000 sample results with reaction curves
Up to 10,000 sample results with reaction curves
Printer
Graphic or Data Printer (optional)
Graphic or Data Printer (optional)
Dimensions (WxHxD)/weights
Main unit:
775 × 685  × 895 mm, 110  kg (approximate)Pneumatic unit:
280 × 400 × 355 mm, 17 kg (approximate)
Main unit:
775 × 685  × 895 mm, 110  kg (approximate)Pneumatic unit:
280 × 400 × 355 mm, 17 kg (approximate)
The CS-2400 and CS-2500 systems perform a wide spectrum of routine and specialised testing with consistent accuracy and reliability, usability designed with Medical Technologists in mind, and provide extra support to laboratory accreditation and documentation requirements.

Consolidation of routine and specialised testing

Consistent accuracy and reliability

Support laboratory accreditation requirements and documentation requirements

1. Shima M, Thachil J, Nair SC, Srivastava A. Towards standardization of clot waveform analysis and recommendations for its clinical applications. J Thromb Hemost. 2013; 11:1417-20.

CS-2500
CS-2400
Detection principles
Multi-wavelength detector for transmitted light at 340, 405, 575, 660 and 800 nm
Multi-wavelength detector for transmitted light at 340, 405, 575, 660 and 800 nm
Detection channel/method
10 channels for clotting, chromogenic and immunoassays (4 of these channels are also be used for platelet aggregation assays)
10 channels for clotting, chromogenic and immunoassays (4 of these channels are also be used for platelet aggregation assays)
Parameters
up to 60 parameters can be analysed simultaneously
up to 60 parameters can be analysed simultaneously
Throughput
PT: 180 tests/h
PT/APTT: 115tests/h
PT: 180 tests/h
PT/APTT: 115tests/h
Sampling
Continuous loading of maximum 5 racks of 10 tubes each, cap-piercing functionality
5 dedicated STAT positions
Continuous loading of maximum 5 racks of 10 tubes each, non-cap piercing functionality
5 dedicated STAT positions
Reagent holder
40 tilted reagent vial positions (10°C), 10 with mixing function
5 positions (room temperature)
All positions with positive reagent identification
40 tilted reagent vial positions (10°C), 10 with mixing function
5 positions (room temperature)
All positions with positive reagent identification
Reference curves
Maximum 10 reference curves per lot
Maximum 10 lots per parameter
Maximum 250 parameters
Maximum 10 reference curves per lot
Maximum 10 lots per parameter
Maximum 250 parameters
Quality control
X-bar control, Levy-Jennings control
Multi-rule (Westgard Rule) monitoring
750 files with maximum 1,200 data points each
X-bar control, Levy-Jennings control
Multi-rule (Westgard Rule) monitoring
750 files with maximum 1,200 data points each
Data storage
Up to 10,000 sample results with reaction curves
Up to 10,000 sample results with reaction curves
Printer
Graphic or Data Printer (optional)
Graphic or Data Printer (optional)
Dimensions (WxHxD)/weights
Main unit:
775 × 685  × 895 mm, 110  kg (approximate)Pneumatic unit:
280 × 400 × 355 mm, 17 kg (approximate)
Main unit:
775 × 685  × 895 mm, 110  kg (approximate)Pneumatic unit:
280 × 400 × 355 mm, 17 kg (approximate)