A simple, highly accurate,
WHO pre-qualified

qualitative point-of-need molecular diagnostics solution testing for confirmation of active HCV infection

in 90 min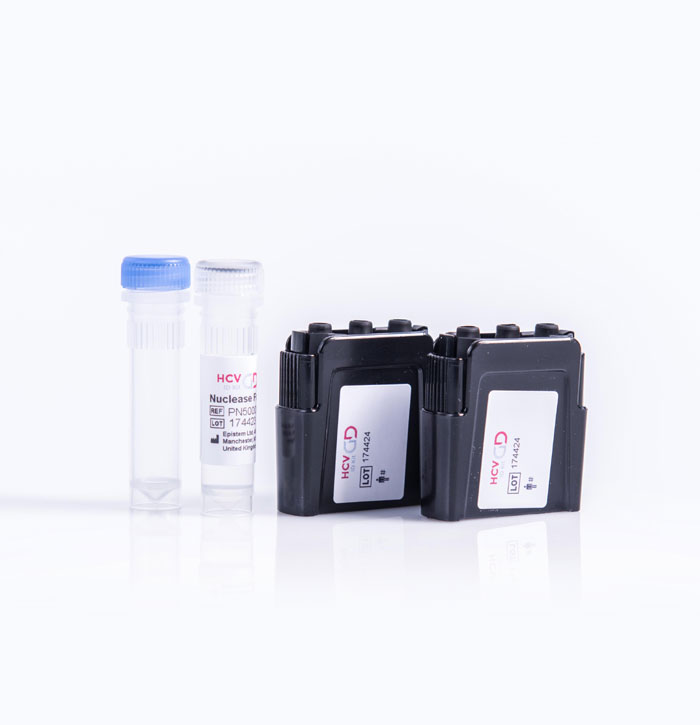 Decentralised Diagnostics to Support the New Era of HCV Treatment
Traditional diagnostic algorithms are complex and time consuming. However, with new simplified World Health Organisation (WHO) HCV guidelines1 and the introduction of new effective Direct Acting Antiviral Agents (DAAs), there is now a greater emphasis on increasing access to diagnostic if countries are to meet the WHO 2030 Hepatitis C elimination targets.2
Genedrive HCV ID kit – Direct from plasma (without the need for viral RNA extraction) with results in 90 mins, facilitating faster treatment decisions and improving linkage to care.Complete the test, provide a confirmatory result and initiate patient treatment all in one visit, using a test and treat strategy.
Reference
Guidelines for the care and treatment of persons diagnosed with chronic HCV infection, Updated version, July 2018. Geneva: WHO 2018.
WHO, Global hepatitis report, 2017
Llibre A, Shimakawa Y, Mottez E, Ainsworth S, Buivan T, Firth R et al. Development and clinical validation of the Genedrive point-of-care test for qualitative detection of hepatitis C virus. BMJ Gut 2018; : 1–8.
| | |
| --- | --- |
| Product Name | Genedrive HCV ID Kit |
| Product Code | ZPS 31000 |
| Technology | PCR with post-amplification melt curve analysis |
| Target HCV Genotypes | 1a, 1b, 2, 3, 4, 5 and 6 |
| Sample Type | Fresh human whole blood derived plasma in K2 or K3 EDTA anticoagulant |
| Sample Volume | 30 µL plasma |
| RNA Extraction | Not required |
| Time to Result | 90 minutes |
| Hands on Time | under 5 minutes |
| In Built Control | Internal Control |
| Pack Size | 10 tests/ Kit |
| Storage Condition | 2 – 30 °C |
| Compatible Platform | Genedrive System |
Reference

Guidelines for the care and treatment of persons diagnosed with chronic HCV infection, Updated version, July 2018. Geneva: WHO 2018.
WHO, Global hepatitis report, 2017
Llibre A, Shimakawa Y, Mottez E, Ainsworth S, Buivan T, Firth R et al. Development and clinical validation of the Genedrive point-of-care test for qualitative detection of hepatitis C virus. BMJ Gut 2018; : 1–8.

| | |
| --- | --- |
| Product Name | Genedrive HCV ID Kit |
| Product Code | ZPS 31000 |
| Technology | PCR with post-amplification melt curve analysis |
| Target HCV Genotypes | 1a, 1b, 2, 3, 4, 5 and 6 |
| Sample Type | Fresh human whole blood derived plasma in K2 or K3 EDTA anticoagulant |
| Sample Volume | 30 µL plasma |
| RNA Extraction | Not required |
| Time to Result | 90 minutes |
| Hands on Time | under 5 minutes |
| In Built Control | Internal Control |
| Pack Size | 10 tests/ Kit |
| Storage Condition | 2 – 30 °C |
| Compatible Platform | Genedrive System |